One Thing You Can Do Every Day to Improve Your Marriage
I wish I could take credit for what I'm about to tell you. It is the best marriage advice I know to give. It is simple and profound and, if you do it, will improve your marriage in ways nothing else can. This advice is so elementary that you'll be tempted to dismiss this article altogether. Here it is…
Pray for your spouse every day.
I am embarrassed to admit that I was married for ten years before I stumbled into this advice. For as long as I've been part of the church and following Jesus, it seems I should have known to do this. Actually, I knew I should pray for Donya every day, but up to that point I hadn't made it a priority. Then, in 2013 I saw an article called "Ten Ways to Pray for Your Wife" that prompted me to take daily prayer for her seriously. It's the best thing I've done for our marriage, and I've shared this with every married guy I've been in small group with for the past seven years.
Here are three reasons why.
When you pray for your spouse every day, you're spending time with God every day.
There is nothing better for your life than to be with the Father. A thousand things compete for our attention every day, exerting their influence on our hearts and minds, shaping us as husbands and wives. Time with the Father shapes us into the image of the Son, preparing us for our greatest responsibility as husbands and wives, reflecting Jesus to our spouse (Ephesians 5:22-33).
Praying for your spouse every day can be part of an intentional rhythm of being with God through Scripture reading and contemplation. Your spouse needs you to be with God, to hear his voice and be shaped by it.
When you pray for your spouse every day, you will begin to see them as God does.
Marriage has its ebbs and flows. Spouses see the best and worst of each other. When you primarily view your husband or wife through your daily experiences with them, it can be easy to let frustration or contempt set in.
As weird as it sounds, in a Christian marriage, your spouse is also your brother or sister. Like your other brothers and sisters in Christ, they need your grace. If you find it easier to give grace to others than to your spouse, praying for them can help.
Something will happen in your heart when you pray for the person you're married to. You'll be reminded of their humanity. You'll be reminded of their need for God. You'll be reminded that experiencing God's grace is the best thing for them.
Asking God to lavish his grace on your spouse will motivate you to join in with him. You'll grow as an agent of grace, learning to look for opportunities to shape your husband or wife through grace.
When you pray for your spouse every day, God will work in your marriage.
Some TV preachers advertise God like a Sham-Wow infomercial. They promise that for an amazingly small price, God will make all your dreams come true and life will have never been better.
I'm not trying to sell you that deal. Sometimes life stinks. Marriage is hard. People sin. Wounds hurt. I'm not promising that if you pray for your spouse every day things will be instantly better and always improving. That's not what the Bible teaches about life, prayer, or God.
Jesus did teach, however, that we should ask God for good things, and that God will give us good things!
"Ask, and it will be given to you; seek, and you will find; knock, and it will be opened to you. For everyone who asks receives, and the one who seeks finds, and to the one who knocks it will be opened. Or which one of you, if his son asks him for bread, will give him a stone? Or if he asks for a fish, will give him a serpent? If you then, who are evil, know how to give good gifts to your children, how much more will your Father who is in heaven give good things to those who ask him!"

Matthew 7:7-11
There is mystery here, for sure. Prayer is not a token to a cosmic vending machine. Prayer is a conversation with our Father. He uses it to shape us and to work in our lives.
Your spouse is worth praying for.
Every day.
When will you start?
---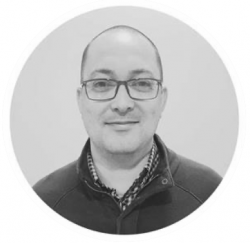 Latest posts by Lance Lawson
(see all)
https://clearcreekresources.org/wp-content/uploads/2020/09/taylor-hernandez-NK-N6coeI5Y-unsplash-scaled.jpg
1365
2048
Lance Lawson
https://clearcreekresources.org/wp-content/uploads/2020/01/CCResources-1.png
Lance Lawson
2020-09-01 17:45:40
2020-09-01 17:48:25
One Thing You Can Do Every Day to Improve Your Marriage