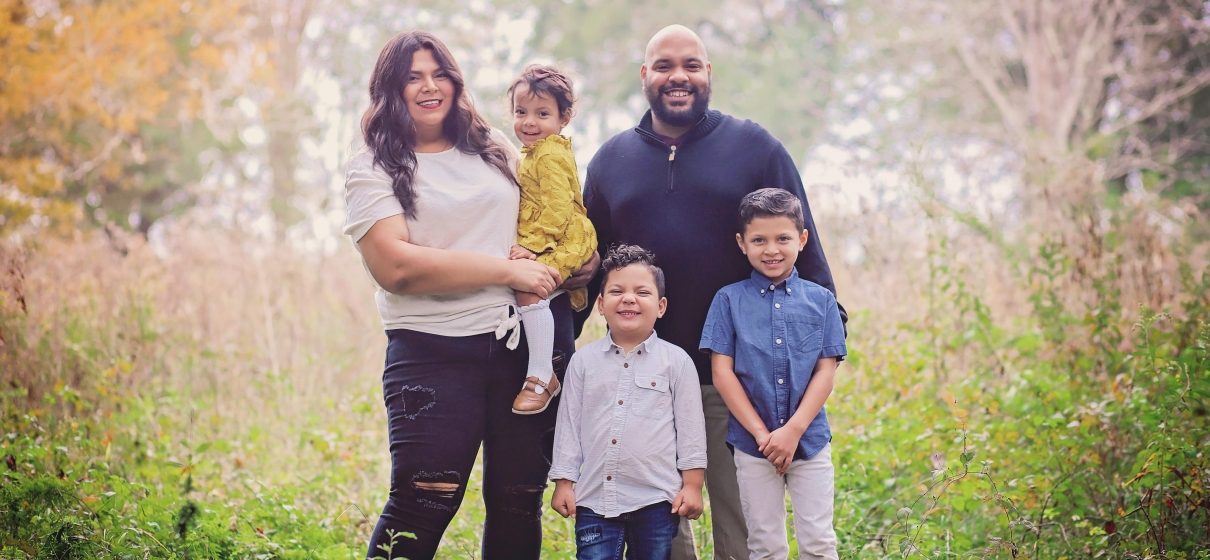 Purpose: The Matt & Megan Adams Story
It started with a question.
Matt Adams had been working as a barber with his boss, Sheridan, for several months when Sheridan turned to Matt one day and asked, "What is your purpose?"
"I don't know, man," responded Matt.
Sheridan nodded. "So, you're just floatin' through life, huh?"
Matt shrugged and laughed uncomfortably, "I guess, man."
Sheridan pointed at Matt. "God's got a purpose for you, man."
The thing was, Matt didn't know what Sheridan was talking about.
"Nobody had ever asked me that before," Matt recalled. "I snapped right there when he said that. 'What's your purpose?' I was like, That's deep."
Matt had never given much thought to his purpose or future. He had been in survival mode for most of his life. But he saw something in this Christian man  that he admired, and deep down, the idea struck something in him.
"Sheridan was a business owner, and I want to be a business owner one day. He's a barber, I'm a barber. He's a father, I'm a father," Matt said. He started noticing how Sheridan conducted his life.
"I had a wife and children," said Matt. "It was time to get my soul right."
* * *
Matt Adams grew up in San Antonio as one of four kids in a single-parent home. His mother "did the best she could" raising him and his siblings, but it wasn't long before Matt got caught up in gang life.
"It was dumb. We were fighting over a color and a certain neighborhood," he said, shaking his head. "I look at it now and I'm like, You were stupid, man. But that was my religion. That was my god."
Matt was also a heavy  drug user and started experiencing seizures as a side-effect. At his lowest, his mother told him he had to leave San Antonio and go live with family in Houston to get away from this life that was killing him. So, at age 22, he got out of what he calls the "never-ending circle" of addiction and gang life, and moved to Pasadena with family.
Not long after the move, Matt met Megan. They quickly hit it off and then started a family together.
But life was hard, and they struggled to get by financially. This put a constant strain on their relationship.
It was around that time that Matt walked into Sheridan's barber shop and asked for a job.
Sheridan hired Matt a few days later, and Matt quickly learned that Sheridan led a different kind of life. He watched sermons on TV every day, listened to Christian music, and read the Bible. He had a good relationship with his wife and kids. He led his business well and treated his employees like family. They talked easily, and then Sheridan asked Matt the question about his purpose. Matt saw something different in Sheridan and wanted it for himself.
So, he started reading the Bible.
"It was like God was saying, 'Yes, you need to read your Bible; read my word,'" Matt said. " I just did what [Sheridan] was doing, and it felt good."
Sheridan used to tell Matt, "You build your faith by reading God's word," and, bit by bit, Matt's faith was indeed growing.
Home life, however, was still on the rocks. And while Megan saw the changes beginning to take place in Matt, she had no interest in participating.
"We would just fight about stupid stuff," recalled Megan. "And then it became petty."
One night, they had the worst argument they'd ever had. Matt was ready to walk out when he got a text from Sheridan that read, "Do you need me?" Matt immediately responded, "Yes."
Sheridan came to their house and listened as they told him everything that was wrong in their relationship. He reminded them that hardships are normal in relationships and that they needed to work as a team against the hardships. Sheridan explained that God's enemy will throw "fiery darts" at those seeking to believe and asked them if they were saved. Neither really knew how to respond.
"So, he just grabbed our hands and told us to repeat the prayer after him," said Matt. They wept through a prayer of salvation that night. Both felt a sense of peace wash over them.
"That was a relationship turning point," said Megan.
"I was ready to throw in the towel," Matt recalled, "but he texted me out of nowhere. That was God working that out."
Matt began taking his role as a godly husband and father seriously, desiring to "incorporate everyone in what [he] was learning." He downloaded a kids' Bible app and began reading devotions with his kids every night.
Then, one day during a kids' soccer game, Matt complained of not feeling well. His stomach had been hurting all week, so they assumed he was just getting sick. Megan drove them home and when she pulled into the driveway, she took one look at Matt and knew something was terribly wrong.
"His face was droopy. I pulled into the driveway, saw his face, and automatically put the truck in reverse," said Megan. Life experience told her Matt was having a stroke.
Once they settled Matt at the hospital, doctors verified he had had a TIA, also known as a mini stroke, which normally indicates a massive stroke would soon happen. They kept him in the hospital for a week under observation.
Ultimately, Matt felt that he got a second chance once again.
"That's what I was thinking in the hospital," said Matt. "That could have been my last day, and I hadn't accomplished anything. It scared me."
Matt and Megan didn't want to leave anything to chance. Megan's mother encouraged the two to go on the Daniel Fast. At the suggestion of Megan's mother they tried the Daniel Fast for 40 days,  along with exercising, and  implementing elements that would soon become their new lifestyle. Matt also used the time to work on his relationship with God using a prayer journal and more fervently studying the Bible. He began reading the book of John and portions of Psalms and Proverbs daily.
Matt really began to grasp the Christian faith when he began watching old sermons of Billy Graham. He credits the famed preacher with giving him a more intimate knowledge of the gospel.
"I've always known the gospel, but [Billy Graham] made me understand it," said Matt. "You can be good all you want, but that won't get you into heaven. You have to believe Jesus died on the cross for your sins. And I'm forgiven for all the bad things I've done. That's the main thing, right there. It's like Wow, who could love [me] even though [I've] done all these bad things – even though I wasn't living right? That amazes me."
As Matt's faith grew more and more deeply, Megan began to notice a change in him that sparked her curiosity.
"We would stay up and talk about it," she said. "He would watch sermons. And then I started joining him."
Eventually, a family member convinced Matt and Megan to attend a service at Clear Creek Community Church. Megan immediately saw a difference in the message versus others she had heard in different types of church settings throughout her life.
"This church really wants ungodly people to come follow," Megan said. "When I first heard that I was like Yes! You're trying to reach everybody. No matter where they come from or what they're doing… I wasn't a godly person. I thought we were doing so bad, and I finally heard 'we're all equal.' That was super comforting [to know] we were not going to come here and be judged."
Matt, Megan, and their three kids quickly got involved at Clear Creek. Megan started serving on the vocal team and Matt joined the prayer team. They got into a small group and were both baptized. Their kids loved being part of the church as well.
Matt and Megan had to un-learn old habits from their relationship and even the way both of them had viewed marriage growing up in broken homes. They sought marriage counseling from the church to learn how to work together as God-honoring spouses.
"We fought for us," Megan said, "and we fought for what we didn't want our kids to go through."
Looking back on their life together so far, Matt and Megan see their journey as a gift.
"Coming to faith with [my husband] has been amazing," said Megan. "Every single aspect of my life has changed. What I think about myself, what I think about me as a mother, as a wife, as a daughter. I'm enough… for God. And that's what matters."
"I'm like a whole other person that I never thought I would be," laughed Matt. "I'm like the whole opposite of what I thought I would be. God can change anything."
As for the question that started it all — now Matt has an answer for what he believes is his purpose in life: "I believe my purpose is to cut hair, to help people, and to share my testimony with people to help them come to Christ. I tell God to use me as a vessel, to use me whichever way he wants to."
https://clearcreekresources.org/wp-content/uploads/2020/05/IMG_7702-scaled.jpg
1365
2048
Clear Creek Resources
https://clearcreekresources.org/wp-content/uploads/2020/01/CCResources-1.png
Clear Creek Resources
2016-01-26 12:21:54
2020-05-29 15:23:59
Purpose: The Matt & Megan Adams Story