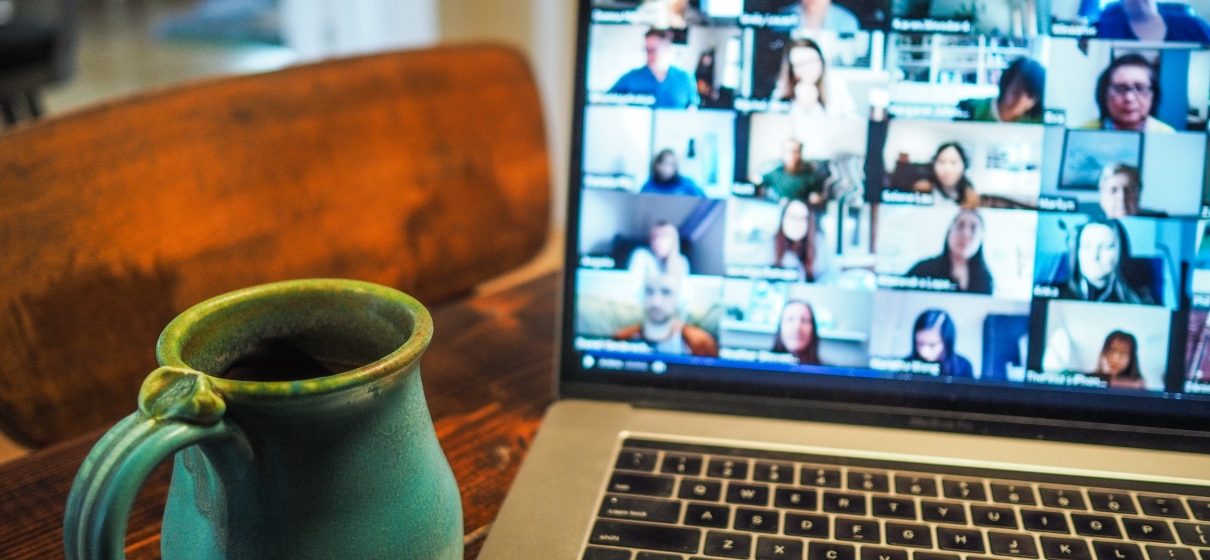 Small Group on Screens: The Strange Days of COVID-19
Diane Stell has been involved in small groups for all of the 20 years she and her family have been part of Clear Creek Community Church. She's learned from every group experience, and each has been different, but not quite as different as the women's group she began leading in the spring of 2020.
"It's been a total, complete, virtual, quarantine group," said Diane, describing her fledgling small group.
The group began with only a few women right before the COVID-19 pandemic became a reality in the Clear Lake area this past spring.
Then, quarantine and stay-at-home orders put normal life on hold for everyone. As routines were suddenly upended, it became clear that meeting as a church was not going to be the same again for quite some time.
"As time went on," said Diane, "I would get two or three or four requests a week for women wanting to join our group. So we moved to Zoom really quickly. Now we have ten members."
Diane spoke with each person over the phone as their initial meeting to tell them what the group was like and give them the option of joining or not. Nobody turned her down.
"I think a lot of these people would not have joined the group if there had not been a quarantine," said Diane. "I don't even think some of them knew they needed group as much as they needed group. Everyone I spoke to just needed to be connected, and that's what group is. God made us that way. The first thing out of pretty much everybody's mouth was 'I just need to be connected to other people that are like minded,' of course that like-mindedness being Jesus."
Most of the women who joined Diane's group had never been part of a small group or Bible study of any kind. Diane calls it "the most diverse group" she has ever been part of. It is made up of women aged 30-64 with varying differences in parenthood, marital status, careers, race, and family and church backgrounds.
"In the beginning, and this is typical of all groups, all you see are the differences," said Diane. "But then very, very quickly, we bonded. And as we got to know each other I started seeing all the commonalities – how connected we are because of Christ. That's the common thread that pulls us all together."
In its short time together, this small group has experienced growth and unity in the midst of a difficult and ever-changing season, despite the fact that most of them have never met in real life.
"We're just making the best out of a situation that's not ideal," said Diane. "I'm hoping that in the future we can meet socially-distanced."
Even so, they've still managed to celebrate with one another. Recently, a member was baptized in an elder's backyard pool. She shared the baptism video with her group and read her story of coming to faith to them at their Zoom meeting the following Tuesday night. It was a special moment they shared together.
Diane has been intentional about doing virtual game nights as well as Bible study. She's done porch drop-offs for people needing a little encouragement, and group members call her and each other regularly to check in or just to talk and pray together.
"You can still do so much!" she said. "There's some hard stuff going on. I feel like the group has really helped each other and been what we're supposed to be as far as being a support for each other."
For Clear Creek, small group has always been the physical anchor to the church — the way to know and be known by one another. Even though the in-person connection is absent from their meetings, Diane said there has not been much connection lost.
"In some ways it's easier for people to meet this way — not having to get a babysitter, not having to 'dress up,'" she said.
For the most part, Diane sees this group much like other groups she has led in the past. They have their ups and downs, their high moments and imperfections. But group now, during this especially strange time, is a special respite away from uncertainty and a step back towards what matters most.
"I'm really grateful for this group," said Diane. "I've loved all of my groups, but I have a special heart for this one. It grounds me. It causes me to want to be closer to God. It's changed my expectations of people in a good way. I'm having a softer heart and giving people more grace on certain things where before I'd be a little nitpicky."
As Clear Creek gears up for Group Link in a time of uncertainty, Diane hopes people will remember that small group is still what it has always been.
"I have lots of Christian friends," said Diane, "but group is different. Group is intentional. Group is prayer. Group is Bible study. Group is connection. Group is supporting each other."
And she believes that being part of a small group now is "absolutely crucial."
"I have witnessed just how much difference it's made, having that connection," she said. "While I think that's true always, I think it is particularly true now. If this virtual connection is all we have, I'm so grateful we have it. God created us to be in community. It's what's good for us. It's what's best for us."
https://clearcreekresources.org/wp-content/uploads/2020/08/chris-montgomery-smgTvepind4-unsplash-scaled.jpg
1536
2048
Clear Creek Resources
https://clearcreekresources.org/wp-content/uploads/2020/01/CCResources-1.png
Clear Creek Resources
2020-08-18 11:29:00
2020-08-18 11:29:00
Small Group on Screens: The Strange Days of COVID-19