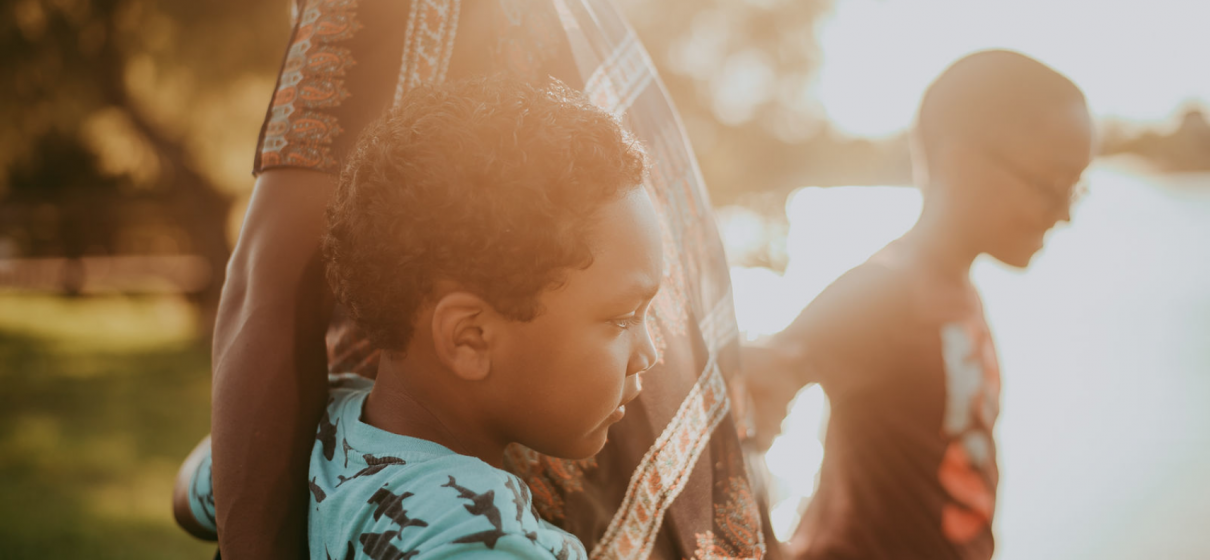 Giving Up: A Bold Love Story
"Oh, great! Another fundraising campaign."
That was Geovani Mejia's initial thought when Clear Creek Community Church first announced the Bold Love campaign.
"I was very upset, annoyed, and angry," Geo said. "I couldn't believe they were trying to raise this much money."
Geo had been a Christian for many years and he and his wife, Portia, had always given a portion of their income to their local church. But changes in his life had caused his heart to become "indifferent" toward his relationship with God, and that disconnect became more obvious to him as he heard the church's plan for the campaign.
"Honestly, I hated the idea of giving more money to the church," he said.
---
Geo and Portia moved to the League City area from Houston when Geo was hired by the League City Police Department. That was a huge career shift for him—from banking to law enforcement—and it came alongside other big changes. The Mejias were still adjusting to life with a new baby, and they had left the comforts of friends, family, and their beloved home church.
At their church in Houston, Portia and Geo had invested heavily in serving, specifically with the youth and in Sunday worship services. They felt the church really needed their time, but it was apparent to the Mejias that it also needed a lot of financial help.
"That church needed every dollar they could get to survive," Geo recalled.
After the Mejias moved to League City and began attending Clear Creek, they settled into a routine of ease and anonymity, choosing to take a break from serving and struggling to continue giving. Indifference toward God began to creep into their hearts.
"I was giving only out of obedience but not out of love," said Geo. "It was a struggle to give the church my money."
"It looked like the church was fine and didn't need our money," Portia added. "We [had] served nonstop for five years. We were tired."
---
By the time the Bold Love campaign began, the Mejias had adjusted to life in League City and were becoming invested in Clear Creek. Portia had begun serving on the worship team at the Egret Bay campus, and they joined a small group together. Geo realized that his relationship with God was beginning to grow again through small group.
Eventually, it was their small group leader, Curtis, who questioned Geo about why he felt such anger toward the campaign.
"It was Curtis who said 'You need to check your heart to see why you're so angry about this.' So that's what I did," said Geo. That's when he realized his anger wasn't about money. "It was a heart thing… selfishness."
The church had encouraged the congregation to look at their personal finances to see what each individual and family could give. Portia and Geo had always kept a budget, but Geo decided to dig a little deeper.
"That's when I listed out all our debt," said Geo, "and I realized how out of control it was: $58,000. That's a lot of money. It was like God opened my eyes to do something about it."
The connection between their looming debt and the anger Geo felt about giving above and beyond their usual tithe to the church started to become clear to him. He realized he needed help to do something about it.
"I started talking to Curtis more about budgeting and getting out of debt," he said.
Curtis helped Geo develop a leaner budget. He also pointed him to financial advisor, Dave Ramsey. Geo read his book The Total Money Makeover and began listening to his radio show. 
Around that time, their navigators asked Mark Carden, Clear Creek's Executive Pastor, to speak with the group about the Bold Love campaign. Geo questioned Mark about the church's motives behind Bold Love and discovered more about himself than he anticipated.
"I didn't ask because I actually cared, it was because I was trying to justify not giving," Geo recalled. By the end of the consultation, he just felt further conviction that the problem was with his own heart.
And so the Mejias made their Bold Love commitments: to continue in community with their small group, for Geo to begin serving on the parking team, to continue giving regularly with generous hearts, and to get out of debt.
The journey to paying off all their debt began. They had a plan in place with a strategic date set for when their final debt would be paid.
"We wanted to get out of debt because we couldn't be generous, and we couldn't accomplish the things we wanted to in life with the debt," Geo said.
But, there were some big financial temptations along the way.
"I still wanted to do things my way," said Geo. At times, he considered stopping their regular tithe in order to make up ground financially. And near the end of their journey, he decided to put the final debt payoff on hold so that they could save for buying a house.
But, continuing in their routine of encouragement from Scripture and other sources, they persevered. They continued to tithe and eventually decided to use the money they had saved up for a down payment on a house to pay off their final loan.
"I felt so much peace—so much relief," said Geo. "In the process, God had to break me of my will."
---
God taught the Mejias many lessons through their 23-month journey, and they're already noticing little glimpses of a new life.
"To me it feels surreal," said Geo. Their first debt-free week, they were able to buy several things for others as gifts. "It was joy. It wasn't grudgingly giving like it used to be."
"Material things don't have such a strong hold on me now," said Portia. "I'm trying to seek [God's] kingdom first, and God is still working on me. Sticking to the budget and being disciplined is something that God has helped me with because if I'm not disciplined in how I spend our money, then that affects my husband and our whole family."
They used the whole experience to teach their kids how to use money properly, in a God-honoring way.
"The boys got to see we don't have to live that life of debt," said Portia. "But, we can live another way—a way that not everybody else is living."
Other fruits have come from this season of cutting back and allowing God to break them of their way of living, as well. Following the journey out of debt, the Mejias not only continued tithing, but they began to give more.
They also took the step to become Navigators, and Portia and Geo have both led short-term Bible studies with co-workers and friends. Geo admits that before all of this life-change, he tended toward hoarding his time and money. But that's not such a struggle anymore.
"Bold Love and going debt free accelerated all that [growth]," he said. "I think God's been trying to teach me to trust him—that it's all his and to trust him. If I'm doing what he's asking me to do as far as being generous, he'll have my back somehow, some way."
Geo and Portia both sense a great deal of spiritual growth in their lives and now live with a sense of anticipation, waiting on what God will call them to do next.
Looking back, the Mejias belive the Bold Love commitment was a crucial step in their story.
"I hate Bold Love and love it," laughs Geo. "It changed our lives."
https://clearcreekresources.org/wp-content/uploads/2019/10/Screen-Shot-2019-10-15-at-4.00.08-PM.png
1144
1710
Clear Creek Resources
https://clearcreekresources.org/wp-content/uploads/2020/01/CCResources-1.png
Clear Creek Resources
2019-09-29 08:00:08
2020-04-23 21:08:26
Giving Up: A Bold Love Story