A Study of Malachi: The Healing Love of God
In the summer 2020 message series "For the Love," the Clear Creek Community Church Teaching Team will examine one of the least known sections of the Bible, the books known as the Minor Prophets, to better understand the great love of God and our faithful response to that love. Join with us in reading each book along the way! Each Sunday afternoon we will post an introductory video by The Bible Project and a 5-day reading plan with reflection questions to prepare you to hear the following Sunday's message.
---
** There is little information at the beginning of Malachi to help us set the prophet within his historical or biographical context: we don't know his genealogy, nation, or king. However, scholars place his writing in the same location where it is found in our Bibles—at the end of the Old Testament period. Malachi, like Haggai and Zechariah, is a postexilic book, a message to the Jews who have returned to Jerusalem after their captivity.
DAY 1—Read Malachi 1
Today's reading introduces us to a pattern found six times in the book of Malachi. The prophet will share a statement from the Lord, and then follow it with a question from the people, always prefaced by "But you say…" The Lord then responds to their question, usually by explaining or expanding on his initial statement. Look at verse 2. What is the Lord's first statement? What question do they ask in response? What evidence does God give as proof of his love?
Verse 6 begins this claim-question-response pattern again, with an accusation from the Lord against his priests. Of what is he accusing them? Read Leviticus 22:17-25. What had the Lord commanded regarding sacrifices made to him?
APPLY—Just as the people of Judah were giving God what was of little value, so we too often struggle to surrender that which is costly to us. What are you tempted to hold back from God: time, energy, home, money, control, relationships? Read Hebrews 9:11-14. Jesus is our true and better unblemished sacrifice. How might a deeper recognition of his willing gift fill us with the desire to respond in joyful sacrifice as well?
DAY 2—Read Malachi 2:1-16
Our passage continues Malachi's indictment of the priests, exposing their failures by describing an ideal, faithful priest. What priestly traits are described in verses 5-7? Which of these characteristics is missing from the priests in Malachi's day, evidenced by their failure to maintain God's standards for worship?
The prophet's attention then expands to the whole nation, accusing them of faithlessness, with the third example of Malachi's claim against the people and their questioning response in verse 14. In addition to their failure to offer unblemished animals, why else has the Lord disregarded their offerings? How can a lack of faithfulness to God result in faithlessness in our other relationships?
APPLY—Malachi called the priests of his day to repentance by contrasting them with the image of a truly faithful priest. Read Hebrews 5:7:10. How does Jesus fulfill Malachi's depiction as our true and better high priest? Now read 1 Peter 2:9—what difference does it make that we are all part of his priesthood as well? In what ways are you, like the priests of Malachi's day, responsible to proclaim the excellencies of him who called you out of darkness into his marvelous light?
DAY 3—Read Malachi 2:17-3:5
Chapter 2 ends with Malachi's familiar pattern, describing the complaints that God's people are bringing before him. Judea in Malachi's day was neither prosperous nor independent, ruled by foreigners and enduring difficulty. Why do you think Malachi describes their words as wearying to God? Compare their complaints amid suffering to Habakkuk 1:12-13. What similarities and differences do you see in their responses to the Lord?
God's response to their complaints about his seeming inactivity is to promise a coming messenger. Read Mark 1:1-8. Who does this passage describe as fulfilling Malachi's prophecy? What message did he preach to prepare the people for Jesus' coming (Mark 1:4)?
APPLY—Just as John the Baptist called God's people to repentance, so Malachi reminds them of the promise that the Lord's coming will not only bring restoration but also judgment. How does he call them to reflect God's heart for holiness and justice? If you sincerely evaluate your life, are you faithfully seeking to speak out against and work to end the injustice that Malachi denounces in this passage?
DAY 4—Read Malachi 3:6-12
God reminds the people of his commitment to the covenant with the evidence of his own unchanging character, that despite their continued faithlessness he has remained faithful. Think back on the other Minor Prophets and any knowledge you have of the Old Testament as a whole. What are some examples of God's people failing to be faithful to him? Though their failures have been continual and catastrophic, he reminds them that he will never abandon his people. How can they restore the covenant relationship, according to verse 7?
As we have seen throughout this book, the people once again question Malachi's message. What two questions do they ask? How does the Lord answer them? Read Leviticus 27:30-32. What had God commanded the Israelites to do with a tenth of their income? Why might the people have been disobedient to this command?
APPLY—Malachi's message is not only an accusation but also a promise: their faithful obedience to give will result in blessed abundance. Read 2 Corinthians 9:6-11, where Paul brings a similar plea for sacrificial generosity to the church at Corinth. How does this differ from a prosperity gospel that requires God to bestow financial rewards on those who fulfill certain obligations, like a great vending machine in the sky? What does Paul argue is the purpose behind any blessings we might receive (v. 11)?
DAY 5—Read Malachi 3:13-4:6
Malachi's final claim-question-response closely echoes the attitude of 2:17—a complaint against the difficulties of following God when it seems that the godless are prosperous. However, in verse 16 we see the first positive response to Malachi's message. What characteristic sets this group apart? What did they do to demonstrate their repentance and faith? How does the Lord respond to them?
Malachi then reminds his listeners that the coming day of the Lord will be a completely different experience for the faithless and faithful. What will the wicked receive on that day? What will those who fear God experience?
APPLY—Would your name have been found in the list of those who fear the Lord and esteem his name? It is all too easy for us to see the depths of our own sin, desiring our own glory and fearing the opinions of others more than the Lord's. Read Revelation 20:11-15. We know that on the day of judgment, books will be opened: books of all our deeds, books that will reveal how we have used our time and treasures on earth. But the book of life will also be opened on that day, and praise God that the names written there are not based on any goodness of our own, but only because of the righteousness of Jesus on our behalf.  What will be the only chance of rescue on that day (Revelation 20:15)? What is our motivation to continue to pursue holiness when we recognize this gospel of grace?
---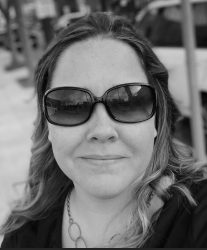 Latest posts by Mandy Turner
(see all)
https://clearcreekresources.org/wp-content/uploads/2020/05/For-the-Love-of-God_Graphic.jpg
1080
1920
Mandy Turner
https://clearcreekresources.org/wp-content/uploads/2020/01/CCResources-1.png
Mandy Turner
2020-07-12 14:00:38
2020-07-18 13:42:43
A Study of Malachi: The Healing Love of God