A Study of Joel: The Serious Love of God
In the summer 2020 message series "For the Love," the Clear Creek Community Church Teaching Team will examine one of the least known sections of the Bible, the books known as the Minor Prophets, to better understand the great love of God and our faithful response to that love. Join with us in reading each book along the way! Each Sunday afternoon we will post an introductory video by The Bible Project and a 5-day reading plan with reflection questions to prepare you to hear the following Sunday's message.
---
DAY 1—Read Joel 1:1-12
The book of Joel begins with the recounting of devastating tragedy. What natural disaster has affected the nation (v. 4-7)? What difficulties and disappointments are they facing?
In an agricultural society, the loss of crops was equivalent to a loss of life. What poetic comparison does Joel make in v. 8 in order to describe their mourning?
APPLY—As the locusts destroy their land, Joel's countrymen watch their hopes disappear as "gladness dries up from the children of man" (v. 12). When have you faced this kind of loss? What does a godly grief look like when gladness feels impossible to find?
DAY 2—Read Joel 1:13-20
The second half of Chapter 1 begins by addressing Israel's priests. How would the locust swarm have affected their responsibilities? How does he expect them to respond?
It seems that the locusts have been followed by more disaster. What difficulties have afflicted the land next (v. 17-20)?
APPLY—Joel ends the chapter with a description of the creation itself longing for God to meet their needs, for his judgment of Israel's sin has affected the land as well as the people (v. 20). What sin do you need to turn away from today? What difference might that transformation make in the lives of your family and neighbors?
DAY 3—Read Joel 2:1-17
In Chapter 2, Joel connects an impending judgment to the destructive locusts and fire in the previous chapter. What is threatening the nation now? How will the land and people be affected?
"The day of the Lord" is a phrase frequently used by the biblical prophets to speak of a coming time of both judgment of evil and salvation for the righteous (v. 1, 11). Who is facing judgment in this passage? How does the Lord want them to respond, and what will happen if they do (v. 12-17)?
APPLY—Joel 2:13 contains a description of God's character, using the same words that he proclaimed after the Israelites worshipped a golden calf at the base of Mt. Sinai (Exodus 34:6). The Lord is recalling his past mercies, reminding them that he always responds to repentance with grace. How have you experienced his forgiveness in your own life? How can a reminder of his compassion for you affect your willingness to turn back to him today (Hebrews 4:16)?
DAY 4—Read Joel 2:18-32
In today's reading, we see the Lord's compassionate reversal of the judgments of the first half of the book—not because of their righteousness, but simply as a gift of grace. In the chart below, identify the judgments found in the previous passages and the promises of renewal in Chapter 2.
| | | | |
| --- | --- | --- | --- |
| | God's Judgment |   | Judgment Reversed |
| 1:1-7 | The locust swarm | 2:24-26 | |
| 1:10-12 | | 2:23 | |
| 1:19-20 | | 2:21-22 | |
| 2:1-11 | | 2:20 | |
Verse 27 promises that God will dwell among his people during this future renewal, both reminding them of his past presence in their midst and anticipating a greater fulfillment to come. What does John 1:14 reveal about how Joel's prophecy has come to pass?
APPLY—On the day of Pentecost (Acts 2), the apostle Peter preached from Joel 2:28-32 in order to explain the day's events to the crowd. The Holy Spirit had come in power to everyone who believed: young and old, rich and poor, slave and free. God was no longer simply dwelling amonghis people, but withinthem. What encouragement can you take from God's promise to send his Spirit to live within you? How might his presence shape your daily choices, actions, and attitudes?
DAY 5—Read Joel 3
The final chapter of Joel begins with a reminder that God's mercy is not universal. Who will be judged on the day of the Lord (v. 1-12)? In contrast, who will find a refuge in the Lord (v. 16)?
In verses 15-16, Joel describes the creation's response to the Lord's judgment. How do we see these same phenomena take place in Matthew 27:45-54? Who is receiving the wrath of God at the crucifixion, and who will receive salvation (Romans 5:6-9)?
APPLY—Joel concludes with a description of the Lord dwelling again in Jerusalem on Mt. Zion, in the midst of his people. In Revelation 21-22, John describes the New Jerusalem that we will inhabit following Christ's return, using images that relate back to Joel's writing. What do these images of peace and flourishing stir in your heart? How can a longing for eternity shape the way we walk with God and love others today?
---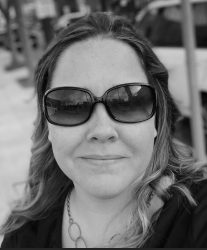 Latest posts by Mandy Turner
(see all)
https://clearcreekresources.org/wp-content/uploads/2020/05/For-the-Love-of-God_Graphic.jpg
1080
1920
Mandy Turner
https://clearcreekresources.org/wp-content/uploads/2020/01/CCResources-1.png
Mandy Turner
2020-05-31 14:00:23
2020-06-01 15:02:39
A Study of Joel: The Serious Love of God