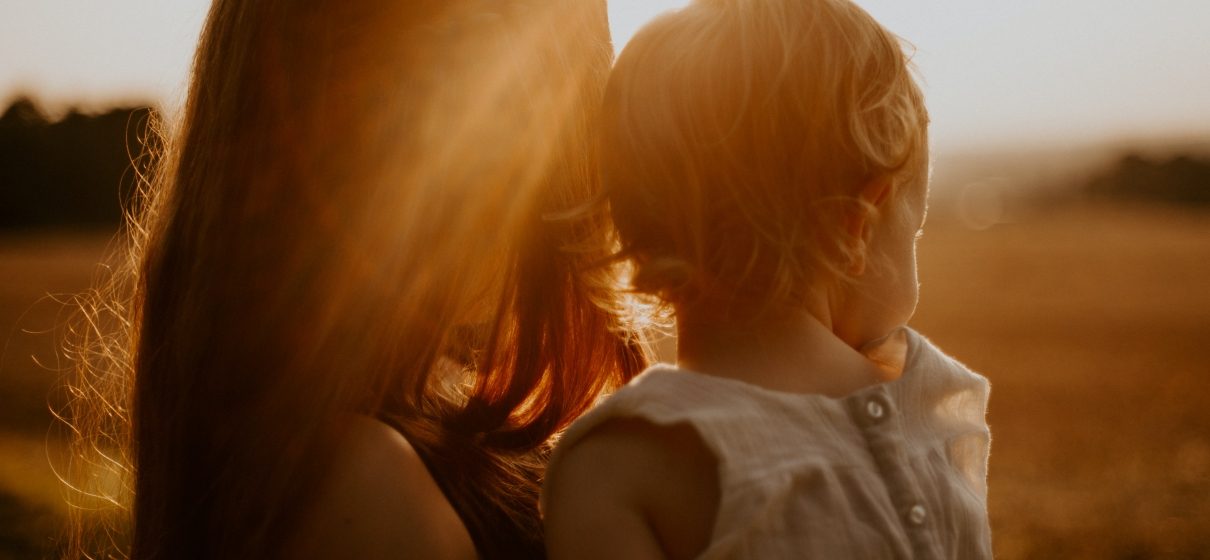 (Mom) Guilt and the Gospel
It started a few weeks after my oldest son was born.
I had dreamed of being a mom. Read all the books. Attended the classes. Developed and implemented a plan experts guaranteed would have my child sleeping on a schedule and through the night by six weeks old.
Except it didn't work.
I was a wreck. I wasn't even three months into this mom gig, and already I had failed my child in some significant way. I was experiencing my first bout of mom guilt.
I have a feeling most moms can share their own stories of times they felt they were not up to the task of motherhood, that somehow, they too failed their children. It's almost universal. Studies say more than 90 percent of mothers experience this unique kind of distress, and 75 percent of parents as a whole feel pressure to be "perfect" for their children. Did you read that? Perfect. No wonder we feel guilty. Perfect is a pretty high standard.
For moms who are followers of Christ, what are we to do with mom guilt?  Actually, let's first ask the question: what are Christians to do with guilt period?
2 Corinthians 7:10 says, "For godly grief produces a repentance that leads to salvation without regret, whereas world grief produces death." Said another way, our grief before salvation leads us to repent and accept Jesus' gift of grace on our behalf. Once we've become followers of Jesus, Christians shouldn't feel guilt. Conviction of the Spirit for sin? Yes! But guilt? No. The penalty for our sin has been paid by Jesus.
Bryan Chapell expands on this truth in his book, Holiness by Grace:
Remorse prior to approaching the cross is of God, but after true repentance beneath the cross such self-reproach is of Satan. Our Adversary wants us to believe that Christ's blood is not sufficient to cleanse confessed sin. We become susceptible to his lie when we begin to doubt the power of the cross full to cancel our guilt, for then we will begin to live (and fall) in the strength of our own efforts.
If you listened to the Clear Creek Resources podcast episode Rachel Chester, Mandy Turner, and I did on mom guilt, we made the distinction between good and bad guilt. Good guilt is better called conviction. It's one of the roles the Holy Spirit plays in the life of the Christian. It is a mark of true belief (see John 16:8). As followers of Jesus we should be broken over sin. As believing moms we should repent when we sin against our children. Certainly this happens: angry words, rash discipline, selfish motives. These are clearly times we should ask for forgiveness from the Lord and our children.
However, far too often we experience anguish and shame when no sin was involved. This is because somewhere along the way we exchanged the idea of what we might do to be a good mom with what we must do to be a good mom. I experienced mom guilt when I didn't plan the perfect birthday party, or couldn't have lunch at school with my boys because of work, or a thousand other things that made me feel like a bad mom. But, I had turned mommy possibilities into mommy imperatives. This is bad guilt.
Sometimes mom guilt has nothing to do with our actions. We may feel guilty because our child made a poor choice and is experiencing a natural consequence like the loss of a friendship. That is enough to send some into the mom guilt spiral of self-doubt, heartache, and despair. And you should know, this also is bad guilt.
Mom guilt is bad guilt.
We need a gospel pathway to walk in order to deal with it.
In my opening story about how I couldn't get my son to sleep, my friend Amanda heard about my despair. She called and gave me words of grace. Gratefully, over the years, many other women have shepherded my heart similarly in other times of mom guilt. I want to leave you with four steps that have helped me get back on track, and I hope, might help you as well:
1. Remove the standard of perfection.
Get rid of the burden you've placed on yourself from wherever it may have arisen (e.g., family of origin, social media, friends). Realize there is one who has been perfect for you (2 Cor. 5:21). Like Paul, we certainly all have weaknesses. And if the apostle, who wrote two-thirds of the New Testament, can claim that because of his weaknesses he can rest in Jesus, certainly we should as well (2 Cor. 12: 9-10).
2. Fix your eyes on Jesus.
I think my mom guilt has often surfaced when my focus has been too much on me. Jesus frees me from needing to constantly evaluate myself against my "perfect mom" standard. Instead of my feeling being anchored to my accomplishments which fluctuate daily (sometimes I'm happy at the day's end, and other times I'm discouraged), my affections are bound up in Jesus who is the same yesterday, today, and forever (Heb. 13:8). His love for me is steadfast (Rom. 8:38-39) because of what he accomplished for me 2,000 years ago.
3. Call out to God.
Let's be real. Being a mom is hard. Really hard. Go to Jesus in prayer when you feel the waves of self-doubt and despair begin to wash over you (Heb. 4:16). Don't skip this! Prayer is one of the most effective ways to combat mom guilt.
4. Be involved in community.
Every mom needs two (or, maybe ten?) Amandas in her life. You need women who can speak gospel truths to your heart. You need friends who will not tell you what you want to hear but need to hear. This is authentic community. It is where can know and be known. It is where you can be vulnerable and find encouragement that you are not alone in your dealings with mom guilt…or any other endeavor (Heb. 10:24-25).
---
Latest posts by Jennefer Arrington
(see all)
https://clearcreekresources.org/wp-content/uploads/2020/05/woman-holding-toddler-2547988-scaled.jpg
1536
2048
Jennefer Arrington
https://clearcreekresources.org/wp-content/uploads/2020/01/CCResources-1.png
Jennefer Arrington
2020-05-05 05:30:13
2020-05-18 16:31:24
(Mom) Guilt and the Gospel