Heart of the Song: Angels We Have Heard on High
As a songwriter, there are few things worse than playing for a room full of people who don't care you're there.
Here you are singing your soul out, sharing the intimate thoughts and emotions of your heart, and people are content to just keep looking at their phones or talking loudly over their drinks, as if all you are is the background music to their conversation.
On the other hand, few are the moments as significant as a room full of starry-eyed people listening or singing along to their favorite artist journeying alongside them as he or she expresses themself through the art of song.
Now allow me to remind you of the most elaborate, magnificent, awe-inspiring musical display in history you probably don't know you know about.
The scene is found in Luke chapter 2. Jesus, the King of kings had just been born to a virgin in a grimy stable outside of an inn in the city of Bethlehem. The God of the universe sent his only son to redeem mankind from the tyranny of sin and death.
Now that he was born, the Father wanted to celebrate and announce his arrival.
So, what did he do?
He sent a mighty messenger angel and a multitude of angelic hosts singing the praises of God.
Luke 2:10-14 recounts it:
And the angel said to them, "Fear not, for behold, I bring good news of great joy that will be for all the people. For unto you is born this day in the city of David a Savior, who is Christ the Lord. And this will be a sign for you: you will find a baby wrapped in swaddling cloths and lying in a manger." And suddenly there was with the angel a multitude of the heavenly host praising God and saying,

"Glory to God in the highest,
      and on earth peace among those with whom he is pleased!"
Now, we need to pause for a second and shake off the familiarity of this passage to really appreciate it. We've heard this story read time and time again, and we're all familiar with the song "Angels We Have Heard on High."
But there's more to this story than simply recounting a wild night of singing angels.
You see, there's a brilliant irony hidden inside this text that gives us an insightful glimpse into the heart of God the Father.
The people of Israel had awaited a Messiah — a savior to come and rescue them from the tyrannical Roman government and be the powerful political figure they needed.
What they didn't realize was that there was a greater enemy than the Roman empire.
They were slaves to sin itself and didn't know it.
So, on the night of the singing angels, this redeeming King had finally arrived.
Who would be the first to know? Who would be the audience for this grand announcement?
If you've ever had a child, who were the first people you told?
Your parents?
Your best friends?
My guess is it was probably the people who would have been most excited. The people who were waiting with anticipation, and upon being informed would probably cry or laugh or jump at the opportunity to come and celebrate this life-changing moment with you.
So, who would be the first to know that King Jesus was born?
Surely it would be the religious elite!
Or perhaps those in political authority.
Even close family members to Mary and Joseph would have made sense.
To whom would God deliver this incredible news on the night of our Savior's birth?
Well, God, in his infinite wisdom, didn't choose to reveal this magnificent news to any of those suspecting audiences. Instead, he chose — wait for it — shepherds.
In ancient times shepherds were filthy, smelly, blue collar, non-prestigious outsiders. They weren't the ones invited to social gatherings, or guests at the important dinners, they were not to be trusted, informed, or honored.
So why would God send his majestic messengers to sing the birth of the King of kings to these guys?
Throughout Scripture we continually see this type of behavior from God.
He often chooses to reveal his heart to and through the least likely characters.
The typical audience of the King's "concerts" all throughout the gospels were sinners, harlots, the marginalized, and the unclean.
Why is that?
God often invests himself into outcasts and outsiders because they are the ones who will humbly receive what he has to say and do something with it. Those who feel righteous and self-sufficient have no need of a savior or a savior's song.
The night Jesus was born, the angels appeared to a group of guys who would appreciate it.
Do you think the politically elite, the religious leaders, or even Jesus' own family members would have appreciated or believed the message of the angels?
They were looking for a savior of their own size and proportions. They had their own expectations, which didn't include someone who would save them from their sins.
I wonder, if Jesus was born in our time, who would have been the audience at the concert?
Would it have been you or me?
Or would we — do we — overlook the good news of Jesus all the time as it is?
Every single day, the gift of the Gospel, the beauty of another day, and the grace and mercy of God are a sight and song that should leave us exclaiming "In Excelsis Deo!" or "Glory to God in Highest!"
Yet here we are, distracted, staring at our phones, talking loudly over our drinks and missing the majesty of the moment.
Today, we can be the recipients of the Good News. Peace on earth, good will towards men.
If only we'll listen.
---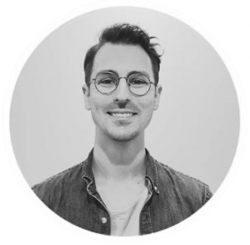 Latest posts by Tanner Smith
(see all)
https://clearcreekresources.org/wp-content/uploads/2021/11/MicrosoftTeams-image-10-scaled.jpg
1365
2048
Tanner Smith
https://clearcreekresources.org/wp-content/uploads/2020/01/CCResources-1.png
Tanner Smith
2021-11-30 13:40:58
2021-11-30 13:44:35
Heart of the Song: Angels We Have Heard on High